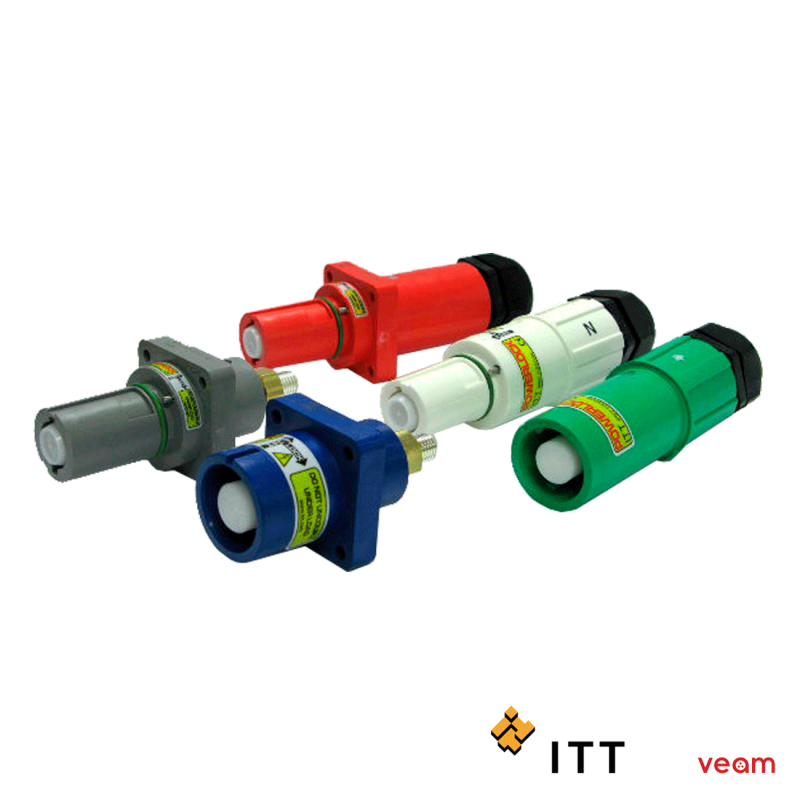 ITT Veam PowerLock connectors are plastic bodied single pole electrical connectors for high power, low voltage applications. Implemented in single and polyphase power distribution systems up to 660 amps, the series includes panel and cable mounted connectors, as well as the associated accessories. 
Powerlock Connectors are rated IP67 ensuring impact resistance and waterproofing.
They feature insulated contact tips to prevent accidental handling of live components.
Powerlock Connectors allow the use of screw and crimping tools to facilitate cable-connector union.
Powerlock's shape and keying avoid miss-connections and come color-coded to adapt to tri-phasic, neutral and ground current codifications. 
Theyare secured with a locking bayonet mount, guaranteeing a proper connection and reducing accidental or un-authorized disconnection. 
PowerLock Sequential Connecting Box
PowerLock Sequential Connecting Box offer a sequential coupling that requires the individual Powerlock connectors to be coupled from ground to tri-phasic passing through neutral. Conversely, the disconnection must be performed in reverse order. Boxes can be locked once the connection has been completed to avoid un-authorized disconnection. 
SnapLock Connectors
Similar to the Powerlock Connectors series, the Snaplock Connectors, are unipolar power connectors from ITT Veam, in miniature format, ensuring all the same benefits, including high performance, reliability, and security but for low voltage power applications up to 250amp.
PowerLock & SnapLock Connectors Applications:
· Harbour Power Supplies.
· Wind turbines and alternative energy transmission systems.
· Generator set. 
· Fixed power distribution boards.
· Energy distribution systems for field installation and mobile generators.