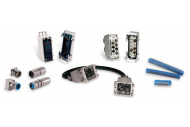 Advantage REP connectors:
Reliability and high performance: REP rail connector resists shock according to Category 2 61-373.

Exceeds the 500 on-off cycles.

Current up to 13A.

Simple: a single contact sections covers the range of 0.5 to 2.5 mm², according to standards EN 50-306 and NFF 63-808.

No special tools required, thereby reducing supply costs, maintenance, and cabling.

Waterproof IP66

The contact retention clip incorporated into the insert

Flame retardant to UL94V0highly resistant materials: polycarbonate and silicone joints.

Security: finger-proof up to 2725V

RAILWAY WATERPROOF CONNECTOR REP

 is available in configurations of 2, 6 and 12 routes.